Have you ever stayed at an airbnb? For the last 3 years my family as loved staying in unique properties across the US and with viewing over 2000 properties in 2022, I can honestly say Acadiana has potential! Having been to every state except Alaska and Hawaii I can also say that South Louisiana is with out a doubt unique with culture and personality. Sit back and relax as I share with you current AirBnBs as well as hidden gems that could be!

FIRST STOP – Kidder Oaks – 427 & 425 Kidder Rd in Carencro
First we will head to I-49 exit 4 and continue heading North. If you are from Acadiana we may think alike that you are likely to find a house with a larger lot most likely acres of land and hills of course! Well 427 & 425 Kidder Road in Carencro is just that. Not only will you find an estate with 100 year oaks and pecan trees, chef's kitchen and an architect designed pool house, you will also find Kidder Oaks- a guest cottage with a unique designer AirBnB flair. Check out the #BeforeAndAfter transformation.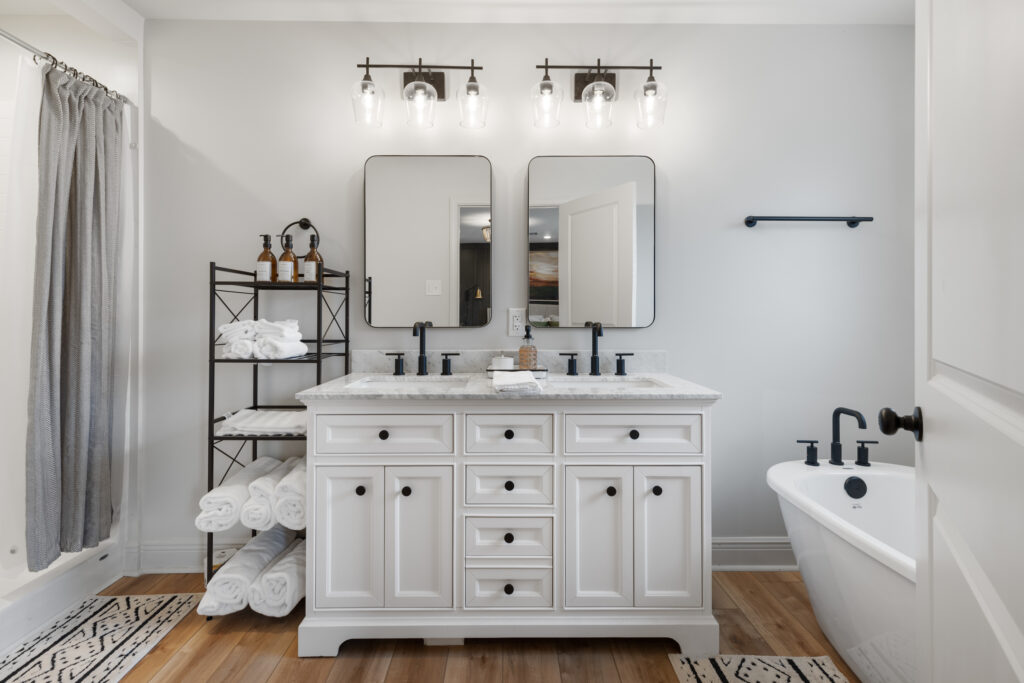 Newly Renovated White and Black Bathroom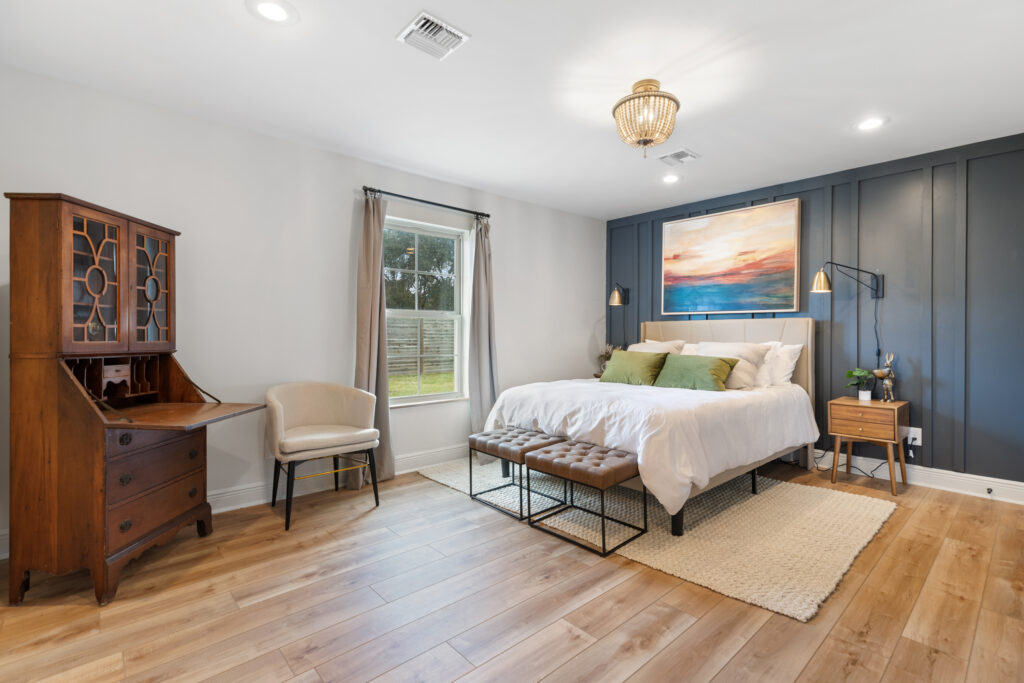 Spacious Primary Suite in Kidder Oaks Guest Cottage
So after photographing this estate, I realized there was so much more to the main house. Of course I liked the vibe there so much that I wanted to move in, but after chatting with the homeowner I realized there was so many things you couldn't see that made this estate even more intriguing and puts this current listing in our #MustSeeOnTheMarket category.
Let's talk details…
1- The pool is heated as well as comes with a care taker system (cleans itself and is self leveling).
2- The house is surrounded by river stone which catches the rain water and runs it down into a waterfall.
3- The front porch and balcony are made with the repurposed pecky cypress from the main house remodel.
4- The screen in balcony allows for year round use and offers relaxing sounds and views of nature.

For more info:  https://www.districtsouthre.com/homes-for-sale-details/425-427-KIDDER-ROAD-CARENCRO-LA-70520/23001260/310/
SECOND STOP – Hidden Gem in Acadiana – 520 W Brentwood Blvd in Lafayette
See you don't have to leave Acadiana to find a peaceful place. Which takes us to our next stop … in the middle of Lafayette, Louisiana at 520 W. Brentwood Blvd. This Hidden Gem of Acadiana is a new AirBnB that was just completed and available starting this week!

This stunning and airy dwelling offers all the amenities you'd expect from a top-notch AirBnB. From the well equipped kitchen to modern bathroom and luxurious furnishings, the immaculate design of this property allows guest to relax in complete comfort.

Just step outside of this Lafayette AirBnB and you'll find yourself surround by all the entertainment and attractions of the city. Don's Seafood, La Fonda, and Alesi Pizza House are all local hot spots (just to name a few) and are all in walking distance. BEST PART – The newly opened Moncus Park, Cajun Field, CajunDome, Blackham Coliseum, Village of River Ranch, Acadiana Mall, Whole Foods, Downtown Lafayette, Target, HomeGoods, and the University of Louisiana at Lafayette are all under a 10 minute drive!

For more info –Book Now on Airbnb or Share this Link with a Friend!
FINAL STOP – 14336 Dalton in Kaplan, La
Finally we have arrived at our last destination even further south in Kaplan, Louisiana. I know I know you may be thinking what's in Kaplan! I had no idea I was heading to an island! Although this estate is currently a home away from home for its' owners, this would make an exceptional AirBnB with 14 acres to enjoy.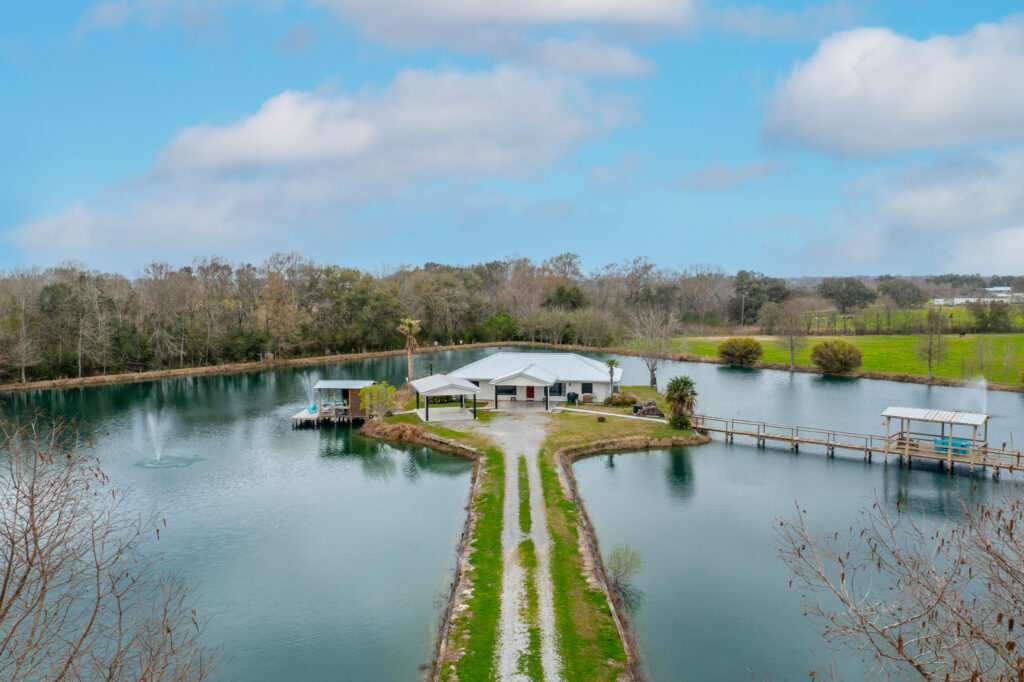 From flying in on the helipad to fishing, kayaking, strolling through the pecan orchard, watching the horses at the farm nearby or enjoying the panorama views in the sunroom over looking the lake, I would be honored to spend a few days on this island.

For more info: https://charliebaudoin.latter-blum.com
I hope you have enjoyed jumping around Acadiana looking at unique properties. While all of these homes are currently for sale that status could change to pending at any moment.  If you have a hidden gem that I need to see and hear its' unique story please reach out by email: smile@fusion.photography or call: (337)256-5966 as I love a good story!
Smiles,
Jennifer Beslin
Owner/Photographer/Interior Stylist
Serving Acadiana and will to travel within Louisiana, Texas, Mississippi, Alabama and Florida (possibly beyond)